Pseudorabies virus (gB) kit deteksi PCR
Detil Produk
Tanda Produk
Virus Pseudorabies (gB) Kit Deteksi PCR (Lyophilized)
48tés / kit, 50 tés / kit
Kit ieu ngagunakeun metode PCR fluorescent sacara real-time pikeun ngadeteksi RNA virus Pseudorabies (gB gene) (PRV) dina bahan panyakit jaringan sapertos amandel, kelenjar getah bening sareng limpa sareng bahan panyakit cair sapertos vaksin sareng getih babi. Éta cocog pikeun deteksi, diagnosis sareng panyilidikan epidemiologis virus Pseudorabies (gB gén). Iket mangrupikeun SISTEM PCR SADAYANA (Lyophilized), anu ngandung énzim amplifikasi DNA, panyangga réaksi, primér khusus sareng usik anu diperyogikeun pikeun deteksi RT-PCR fluorescent.
Komponén
Pakét
spésifikasi
Bahan-bahanna

PRV PCR Campur

Botol 1 × (bubuk Lyophilized)

 

50Tés

dNTPs, MgCl2, Primer

, Probes, Taq DNA polimérase

6 × 0.2ml 8 tabung well-strip

(Lyophilized)

48Tés

Kontrol Positip

1 * 0,2 ml tabung (limofilisasi)

 

10 Tés

Plasmid atanapi Pseudovirus ngandung PRV (gB) fragmen khusus

Ngaleyurkeun leyuran

1,5 ml Cryotube

500uL

/

Kontrol négatip

1,5 ml Cryotube

200uL

0,9% NaCl
(1) iket tiasa diangkut dina suhu kamar.
(2) Umur hirupna 18 bulan di -20 ℃ sareng 12 bulan jam 2 ℃ ~ 30 ℃.
(3) Tingali labél dina kit pikeun tanggal produksi sareng tanggal béakna.
(4) Réagen vérsi bubuk lyophilized kedah disimpen dina -20 ℃ saatos dibubarkeun sareng beku anu diulang -kali kedah kirang ti 4 kali.
GENECHECKER UF-150, UF-300 instrumen PCR fluoresensi real-time.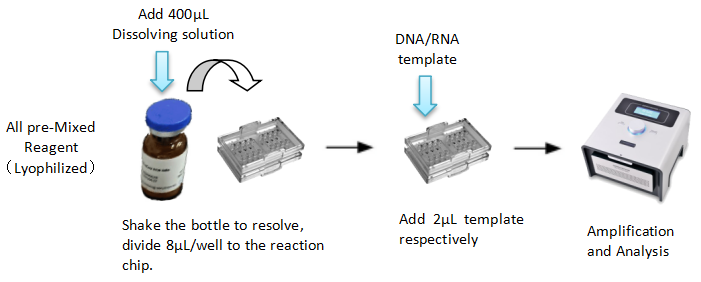 b) 8 vérsi tube well-strip: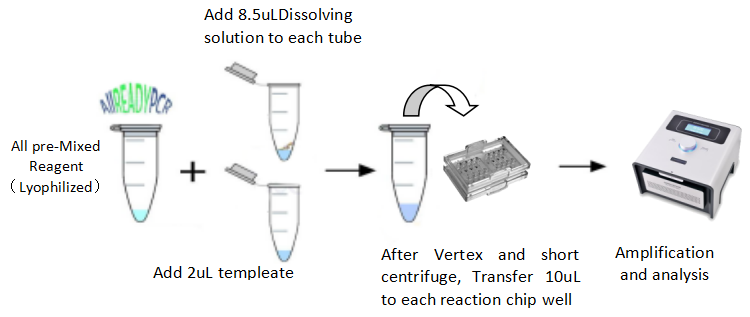 Disarankeun Setting
Lengkah

Siklus

Suhu (℃)

Waktos

Saluran fluoresensi

1

1

95

2min

/

2

40

95

5an

/

60

10-an

Kumpulkeun fluoresensi FAM
* Catetan: Sinyal saluran fluoresensi FAM bakal dikumpulkeun dina 60 ℃.
Saluran

Tafsir hasil

FAM Channel

Ct≤35

PRV (gB) Positip

Undet

PRV (gB) négatip

35<Ct≤40

Suspicious resut, retest*
*If the retest result of FAM channel has a Ct value ≤40 and shows typical "S" shape amplification curve, the result is interpreted as positive, otherwise it is negative.
---
---